Amarr 3582
Amarr 3582 Aluminum MultiView doors make a unique design statement with the widest single piece of glass that specifications, safety, and reliability standards allow. Constructed of 2" thick extruded aluminum rails and stiles, these doors are built to last.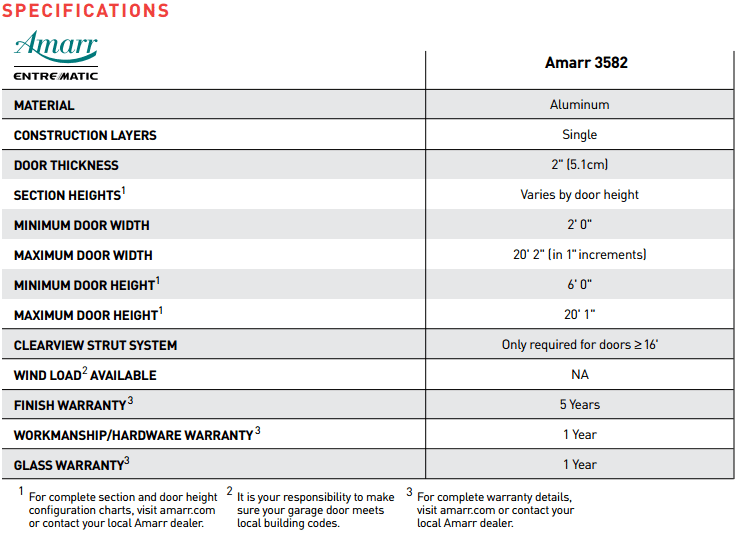 Technical Features:
All Amarr doors are available with both 2"or 3" track in Standard Lift, High Lift, Vertical Lift, Low Headroom, and Follow the Roof Pitch. Custom track configurations are also available
Torsion springs are oil tempered, helical wound and custom computed for each door for a minimum 10,000 cycle life. Optional springs are available up to 100,000 cycle life.
Amarr hardware includes minimum 14-gauge galvanized steel hinges and 13-gauge galvanized steel track brackets. All rollers have minimum 10-ball bearings
Amarr 3552/3502
Amarr 3552 and 3502 Aluminum Full View doors are constructed of 2"thick extruded aluminum rails and stiles and can be fitted with a variety of full-view glass options, solid aluminum, perforated or louvered ventilation panels.
Perfect for automotive showrooms and repair centers, service stations, car washes, fire houses, restaurants, and sports complexes; our aluminum doors create a clean style for any facility.
These doors can be mounted stationary or operative as a stylish alternative for al fresco situations.
The ClearView Aluminum Strut System provides added strength and durability to larger Amarr 3552 door sizes up to 24' 2", without restricting the viewing area.
Technical Features:
All Amarr doors are available with both 2"or 3" track in Standard Lift, High Lift, Vertical Lift, Low Headroom, and Follow the Roof Pitch. Custom track configurations are also available
Torsion springs are oil tempered, helical wound and custom computed for each door for a minimum 10,000 cycle life. Optional springs are available up to 100,000 cycle life.
Amarr hardware includes minimum 14-gauge galvanized steel hinges and 13-gauge galvanized steel track brackets. All rollers have minimum 10-ball bearings