Modern Steel™ collection
garage doors are available with a wide variety of options to suit your taste and your home's appearance.
Whether your home is mid-century modern, contemporary, or somewhere in between, these beautiful and durable steel-panel garage doors will add curb appeal to your home's exterior.
CONSTRUCTION: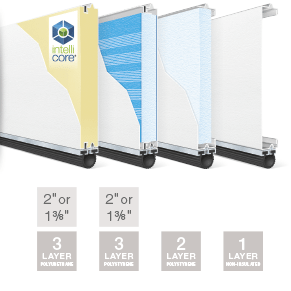 Available in 3-layer, 2-layer or 1-layer construction
Insulation options include (R-values from 4.4 to 18.4): 2" or 1-3/8" Intellicore® polyurethane, 2" or 1-3/8" polystyrene, and 1-5/16" or 7/8" vinyl backed polystyrene
Replaceable vinyl bottom weather seal in rust free aluminum retainer helps protect against the elements.
Window grilles are removable for easy cleaning.
Patented Safe T-Bracket® - Prevents serious injury that could occur if the bottom bracket were removed with the garage door closed and under tension.
Rust-Prevention System - Steel skins are protected through a tough, layered coating system, including a hot-dipped galvanized layer, a protective metal oxide pre-treatment and a baked on primer and top coat.